Hey!
I'm Andrew with Unashamed Encouragement and I'm so happy the Lord has brought our paths together! I'm excited for you to journey along with us as we grow in the likeness and fullness of what Christ Jesus has for us! No matter what you're going through. You CAN find hope and Encouragement in Christ. Make it a Great Day!
MY STORY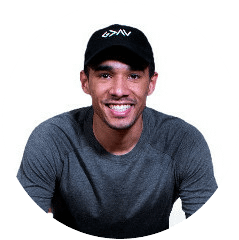 I grew up in a loving Christian family. I was the middle of 5 children, my brothers and sisters always said I could get away with anything because I was the middle… And they were kinda right. My early childhood was filled with much joy and many fond memories.
Early on as a child, I gave my heart to the Lord, however, I really didn't know what it meant. Soon after, when I started to get into those preteen years, I slowly started to rebel from the church. I'd make up excuse after excuse to try to get out of going. I stopped going to camps, and stopped hanging out with my "church friends". After all, they were so "uncool"
This rebellion became progressively worse, by the time I hit high school I was slipping deep into the darkness. All that consumed my mind was partying, women, drugs, and alcohol. I lived to be the life of the party. By this time I was far from the Lord and wanted nothing to do with him. My grades were falling lower and lower, and the increase of sex, drugs, and alcohol grew more and more.
My parents were saddened and almost felt helpless with the lifestyle I was living. I didn't care, I was living for myself.
Then the news came in…
My mom was dying…
She was diagnosed with cervical cancer and was told she had 2 months to live. This news was shared in May my senior year of high school. By July, she was gone…
Tears still fill my eyes as I type these words. – I remembered how concerned my mother was that I was not going to graduate High School… On the day of graduation, she was too sick to come and see me walk down the aisle to receive my diploma.
Here I was an 18-year-old kid, fresh out of high school with no plan, no purpose, no meaning to life. I was lost, hurt, confused, and didn't know where to turn.
I felt God drawing me to Him, and for a few months, I'd read my Bible and try to understand Him. However, that was short-lived. I needed to find comfort, and sadly the only comfort I knew was the artificial comfort. I turned back to the women, drugs, and alcohol.
By the time I was 21, the girl I was dating became pregnant. Again I was brought to knees in desperation. How could I ever raise a child… My life was a mess and felt as though it was getting progressively worse.
It's crazy though how God works sometimes. That's for sure!
Sometime later my girlfriend started to go to church. She too was confused, lost, and scared as to what the future held. The Lord started to work in her life, and not long after I started to attend church with her.
It was through this season that Lord started to teach me, grow me, and show me how deep His love was for me!!! I gave my heart to Jesus Christ and was committed to living for Him. My girlfriend and I got married, I attended Bible College and graduated with a 4.0 as well as being crowned Valedictorian. (My mom would be so proud)
What a beautiful story, a happy ending…
If only that were true…
I never fully dealt with the sin that was creeping at my door. For most of my life, I struggled with sexual immorality. Ever since high school and beyond, I wrestled with this sin day in and day out.
It was not long into our marriage that I was unfaithful to my beautiful amazing wife… Then again, and again.
It wrecked her…shattered her heart into a million pieces. Pieces that are still being picked up to this day.
I was being consumed by this evil living within me.
Something had to change, I was living a double life. Trying to follow and seek the Lord on one hand, but also living for myself and the pleasures of this world.
Enough was enough. Jesus had to be 100% central in my life.
I repented, rededicated my heart to the Lord, I confessed my sins to her family, and others in our lives. I was forgiven through the blood of Jesus' sacrifice on the cross.
I've surrounded myself with accountability brothers who speak into my life on a daily basis. I'm now living a pure life for the King of Kings, and the Lord of Lords!
My wife and I are seeking counsel and working towards wholeness and reconciliation. There are good days, and they're tough days. But HOPE is ALIVE!
So Here I Am, Unashamed…
In need of Christ's love, grace, and forgiveness daily. And My hope is to bring YOU ENCOURAGEMENT! No matter what you're going through, and no matter how bad it looks. There is HOPE in Christ. I'm here to bring you daily encouragement through positive and uplifting videos, devotions, and Christ-centered content.
You are not alone in your struggle. Jesus Christ is with you through all of it, and we must come along with one another and support each other in this journey we're all on.
Together we are stronger!
Be Encouraged!
I can ensure you, you'll be encouraged through this ministry. I look forward to talking with many of you and hearing your stories and how God is working in your life.
This is a community of stories, hope, and encouragement. Where we can truly be unashamed of our past, and of our stories!
Reach out anytime!
I'm just a humble servant of the Lord Jesus Christ!
With love,
Andrew Jones
Founder of Unashamed Encouragement