Ahh, the good old topic of forgiveness… Many of us struggle with forgiveness including myself. There is much the Bible has to say on this topic, and today we'll be covering a few verses in the Bible on forgiveness.
I'm pretty excited are you!?
Let me ask you a quick question… Have you ever been hurt by someone? Heart broken, life altered by what others have done towards you?
My guess is that you have… For most of us, we've been hurt by someone in our past.
This allows an opportunity for forgiveness…
I like this definition of forgiveness: "Forgiveness is the intentional and voluntary process by which a victim undergoes a change in feelings and attitude regarding an offense, and overcomes negative emotions such as resentment and vengeance (however justified it might be)."
I believe that this sort of true forgiveness can only be achieved with the help of our heavenly Father. The Holy Spirit living in us, allowing for a heart change towards others.
The one question I have for you is this… Are You Ready? Ready to forgive those who have hurt you…
Forgiving Others
"If you forgive those who sin against you, your heavenly Father will forgive you.

Matthew 6:14
So watch yourselves! "If another believer sins, rebuke that person; then if there is repentance, forgive. -Luke 17:3
Get rid of all bitterness, rage and anger, brawling and slander, along with every form of malice. Be kind and compassionate to one another, forgiving each other, just as in Christ God forgave you. Ephesians 4:31-32
I tell you, you can pray for anything, and if you believe that you've received it, it will be yours. But when you are praying, first forgive anyone you are holding a grudge against, so that your Father in heaven will forgive your sins, too."-Mark 11: 24-25
It's so interesting to me, that God asks us to pray for anything, and if we believe, and it lines us with His will we have received it, and it will be ours… However there is just ONE prerequisite. FORGIVE anyone who you're holding a grudge towards. Wow… just goes to show how important forgiveness is to God!
Forgiving Yourself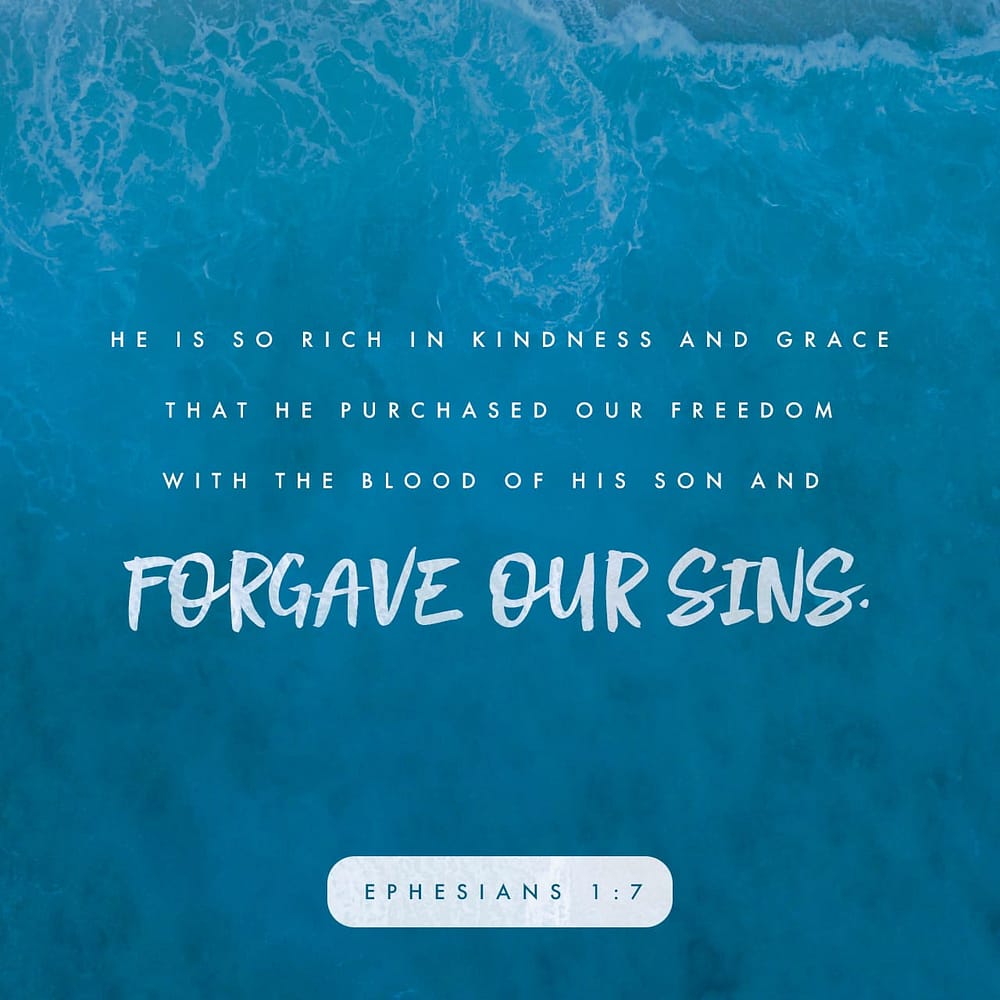 If you're like me in any way, you've caused pain and hurt to others who are close to you. For years I lived a life of darkness that brought pain to those who were very close to me. I was ashamed of what I had done… We must learn to forgive ourselves for what we have done, as well as what we have allowed to be done to us.
This is a process, and takes self examination on your behalf, to really press into your heart, and allow the Lord to minister to you. Let the below verses bring much comfort to your soul.
Repent, then, and turn to God, so that your sins may be wiped out, that times of refreshing may come from the Lord.

Acts 3:19
In him we have redemption through his blood, the forgiveness of sins, in accordance with the riches of God's grace. -Ephesians 1:7
Love prospers when a fault is forgiven,but dwelling on it separates close friends. -Proverbs 17:9
No matter what you have done, or how far you have strayed there is hope. When we truly repent for our wrongdoings and surrender our hearts to the Lord, there is grace and forgiveness. Is there anything you need to repent of in your life? I would encourage you to take a moment, and spend time bringing that to the Lord!
Forgiveness From God
I'm still in awe most days that the God who breathed this world into existence, who created me, and created you. The one who is all powerful… Gave His life for us…
A wicked, and sinful people. Yet that didn't stop Him from showing His complete love towards us. He Forgave YOU!! He Forgave! For all the lies, the greed, the pride, selfishness, lust, adultery, and the list goes on and on. Whatever your offense… It's been paid in full.
WOW!

What a wonderful God we serve!!
Now it kinda makes sense as to why He would ask for us to forgive others… Because we have been forgiven so much. Let these below verses open your eyes as too how much the Lord loves you, because He forgave you.
What past sins has the Lord forgiven you of?
How has the truth of God's forgiveness towards you changed your heart?
Meditate on the below scriptures, and may you be blessed.
If we confess our sins, he is faithful and just and will forgive us our sins and purify us from all unrighteousness.

1 John 1:9
"Come now, let us settle the matter," says the LORD. "Though your sins are like scarlet, they shall be as white as snow; though they are red as crimson, they shall be like wool. -Isaiah 1:18
Therefore, if anyone is in Christ, the new creation has come: The old has gone, the new is here! -2 Corinthians 5:17
Then he adds: "Their sins and lawless acts I will remember no more." -Hebrews 10:17
This is my blood of the covenant, which is poured out for many for the forgiveness of sins. -Matthew 26:28
Conclusion
Forgiveness… How has the Lord spoken to you while reading through this? As we now understand, we're called to a life of forgiveness. No matter the hurt, or the offense done towards us, we're called to forgive. Is this hard at times…? Of course it is, and we'll need the help of the Holy Spirit to guide us down the road of forgiveness. Take time to make a list of all those that you should forgive. You see, the only other alternative is unforgiveness, which is like drinking poison and expecting the other person to die. Unforgiveness always affects us more than the other person.
Next, take time to meditate on the sacrifice that Christ Jesus has made. Reflect on all He went through so that our sins could be forgiven. We as people can sometimes forget. Continue to bring your sins to the Lord, and allow the blood of Christ to wash over you. You are so loved… Never forget that.
Prayer:
Lord, guide my heart into all truth and understanding as it pertains to forgiveness. May you put the people on my heart that I still need to forgive. Anyone I might be holding bitterness towards may you please reveal. Lord, thank you for dying a criminal's death on my behalf, so that my sins could be forgiven. I love you, In Jesus Name, AMEN!